How do i activate office by phone ?
Below is the standard message you will receive to prompt phone activation.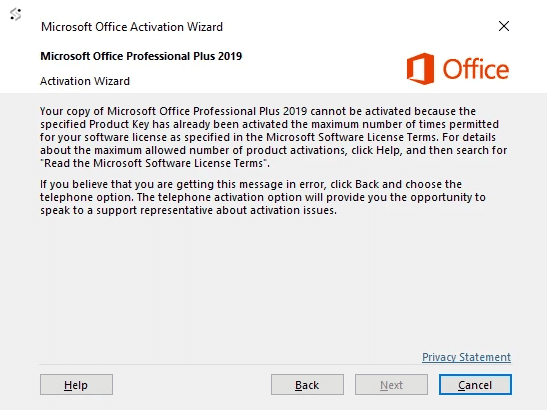 If you have the following error message above when trying to activate office 2019/2016 with your license key please see below.
To start the simple process of activation over the phone please see below

Method 1
Using:  https://getcid.info/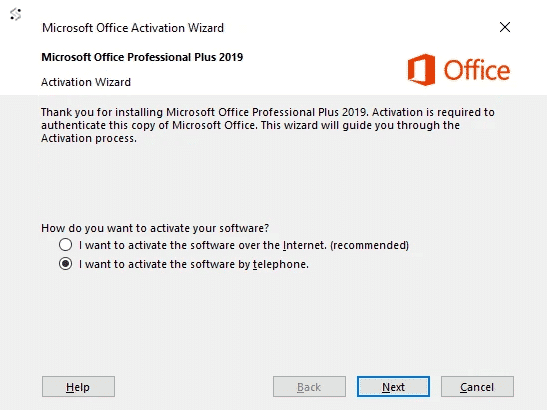 Now click next to continue.
You will see the telephone activation section.
First select your country, this will enable Microsoft to generate you a phone number to call.
If the number does not work or you cant see one click here.
Please telephone the phone number to match your country.
An example of this windows is below.​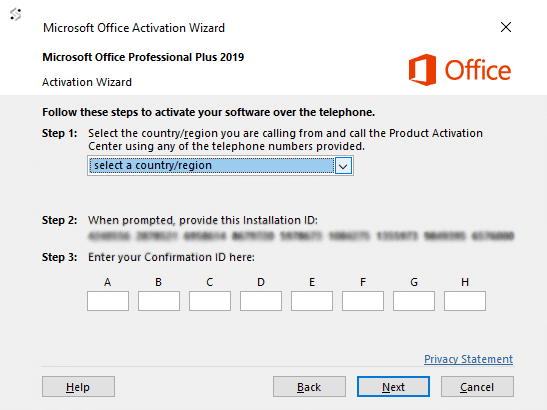 Please see below for how to activate office 2019 via telephone.
1-Start by calling your chosen number.
2-Now press option 1 to consent to call recording.
3-Enter the auto generated security number if asked on the telephone keypad.
4-Now press option 3, do NOT press option 2, this will fail activation.
5-Now press option 1.
Microsoft will now ask for your Installation ID, type it into your telephone keypad carefully.
6-You will now be asked how many uses, press 0. (The reason we choose 0 as you have not activated this on any PC yet)
7-The automated system will now verify your Installation ID and generate you a Confirmation ID 
* (if not see bottom of page)
8-Type the Confirmation ID into your PC carefully and press next.
9-Your activation is successful and fully installed on your PC.
10-now press option 2 on your telephone keypad to complete the activation.
Please see the image below.​